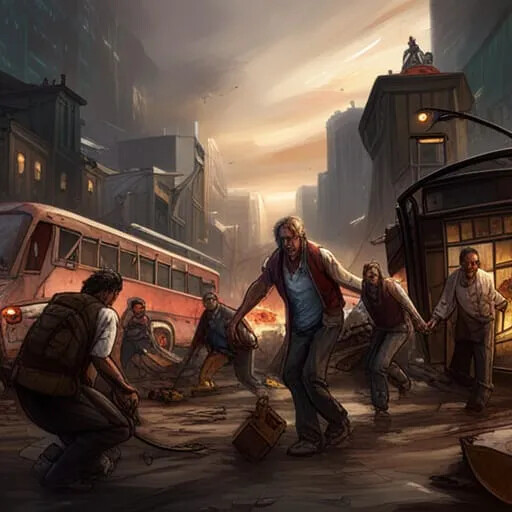 An AI interpretation of what our time on this Project Zomboid server might be like, prompt: "survivors failing to fight off a horde of zombies in a town with a wrecked battle bus in the background"
Modded Project Zomboid: 2023
Welcome to the post for our latest new server modded Project Zomboid, we're returning to this after quite a long time away now that the mods have had enough time to develop on build 41. Here are some of the new features added by the mods currently in the modpack:
Features
All of the above is subject to change depending on the outcome of beta testing this week.
Server - Out Now!
This server is available now! Please feedback any issues, suggestions, etc. Mods will be auto installed when joining this server.
How to Join:
Launch Project Zomboid
Click on Join from the main menu
Under the Favorite menu enter the following details in the Add to favorites menu on the right:

Favorite Name: TSA PZ
IP: pz.tsa.zone
Port: 19132
Server password: TSA security level 2 password
Account Username: Your account username
Account Password: Any random password

Click SAVE
Select the newly created entry and press JOIN SERVER (it may show that the server is not responding, this can be ignored)
Your client should now start joining and ask you to install all required mods. Once your character is created the screen may show as black for a while as the mods are loading, this is normal.
As with all of our recent servers this server is only avalible to long term community members or anyone they can vouch for.